Appalachian trail
The Appalachian National Scenic Trail, generally known as the Appalachian Trail or simply the A.T., is a marked hiking trail in the Eastern United States extending between Springer Mountain in Georgia and Mount Katahdin in Maine.
East America
Summary
trail name
Appalachian trail
departure
Appalachian Trail plaque
country
United States of America
Association
Appalachian Trail Conservancy
Checklist
Check these different things before going on trail !
Don't forget anything
Preparation for a trail can be messy. Downloading the track, applying for a permit, renting/buying specific gear, manage food resupply are all kind of tasks hikers must do before leaving. If you thing about something people shoudn't forget, here is the place.
Weather
Best weahter from March to September
Photos
Share your pictures
Views from the trail are generally stunning, share your best shots with us!
Videos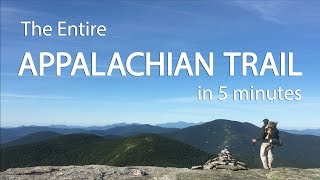 Frequently asked questions