Slovenian Mountain Trail
The Slovenian Mountain Hiking Trail, sometimes also called Transverzala, is a route from Maribor to Ankaran. It covers most of the Slovenian mountain areas including Pohorje, the Julian Alps, the Kamnik-Savinja Alps, the Karawanks, and the southwestern part of Slovenia.
Slovenia
Summary
trail name
Slovenian Mountain Trail
arrival
Ankaran / Ancarano
guide
Advised for beginners
Checklist
Check these different things before going on trail !
Don't forget anything
Preparation for a trail can be messy. Downloading the track, applying for a permit, renting/buying specific gear, manage food resupply are all kind of tasks hikers must do before leaving. If you thing about something people shoudn't forget, here is the place.
Weather
Best weahter from June to October
Photos
Share your pictures
Views from the trail are generally stunning, share your best shots with us!
Videos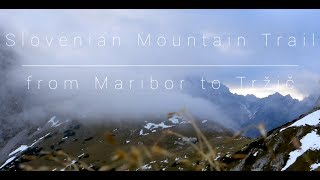 Frequently asked questions